Activity & Guidelines
     Udonthani sightseeing near Jamujuree Home. (Shopping mall, Shrine, public park and restaurant) 
Morning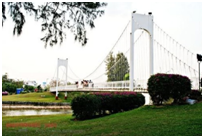 Nong Prajak Public Park
3 kilometer walking/jogging trail around a beautiful lake. Bicycles can be rented for a small fee. Feed the fish in the lake. Get a relaxing massage across the street. Many nice restaurants (western and Thai) within a five minute walk. Located in the center of the city near fire station.
(5 mins from Jamjuree Home by bicycle)
Late morning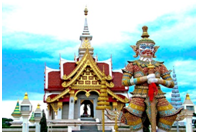 A Lak Mueang or City Pillar Shrine (as it is known in English) is a Thai public shrine, which is or represents the tutelary diety of each province of the Kingdom. Essentially, the shrine represents "good luck" and acts as a guardian for the good fortune of the region. The shrine consists of a central pillar, which is housed in a enclosing structure. This structure usually reflects the historical and cultural background of the province.
        Udon Thani Museum (Phiphitthaphan Muang Udon Thani) is situated in an old colonial-style building near Nong Prajak public park. It contains history of Udon Thani settlement, history of Udon Thani city's founder, local archeology and natural history, history of the city development, the local cultures and livings, and the buddism livings in the city especially "Luangta Maha Bua" who is the most respected monk for Udon Thani people.
(10 mins from Jamjuree Home by bicycle)
Afternoon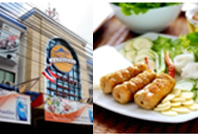 Good everything restaurant. The easy going atmosphere combined with old English pavilion style decoration. Great location with beautiful landscaping and view of the park. Great salads, seafood, Thai dishes, and deserts.
VT Namnueng  is located in the Mueang district of Udon Thani on Pho Si Road. This restaurant offers authentic Vietnamese cuisine. It has a varied menu featuring many different Vietnamese classic dishes.
(15 mins from Jamjuree Home by bicycle)
Late Afternoon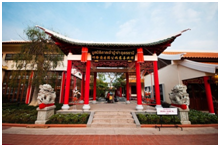 Shopping at Central Plaza , UD TOWN (an open-air shopping mall surrounded by greenery landscape in which visitors will experience the balance mixture of nature and leisure).
          Sanjao Phuya Chinese Temple. This large, brash Chinese temple on the southern shore of Nong Bua attests to the wealth of the local Thai-Chinese merchant class. At its heart, the Pu-Ya Shrine houses small images of the Chinese gods Pu (Grandpa) and Ya (Grandma).  N Galleriaand  Beyond's Café  coffee shop.
(7 mins from Jamjuree Home by bicycle)
Evening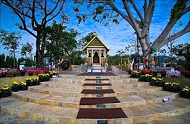 Santeparak shrine represents Udonthai people  and acts as a god to protect Udonthani town.
(5 mins from Jamjuree Home by bicycle)